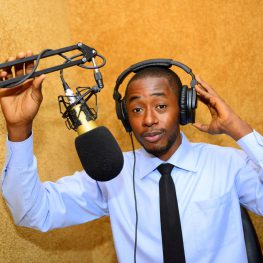 This is one of the most vibrant department at Mount Kenya University whose impact has lead to visible results.Students in this department enjoy practical training at TV47 studios in Nairobi and Mombasa. The programmes are offered in Thika, Nairobi, Nakuru, Mombasa and Eldoret campuses.
Mount Kenya University offers ground breaking courses in the department of Journalism and Mass Communication that reflects the changes that have transformed journalism and communication field and by implication society in recent years. You will learn from respected journalists and other industry experts, exploring what it means to work with new technologies in today's multimedia newsrooms and workplaces.

The department offers certificates, bachelor and masters programmes in journalism, public relations, animation and motion pictures, film studies, mass media and communication, corporate communications and media management.
Career opportunities exist in journalism, production, film making, corporates communications, public relations, communications consultancy and research, and diplomacy. Specifically, the following rewarding careers are available to graduates of the various certificate, diploma and Degree programmes in journalism and mass communications as:
Video editor
Reporter
photojournalist
Camera operator
Disc jockey
Print and broadcast editor
Sound technician
Studio technician
News anchor
Copy writer/advertising creative
Media researcher
Social media administrator
Photojournalist
Website content developer
Event organizer
Content developer (TV, radio, Online)
Graphic designer
Sound designer
Film producer
Film director
Film researcher
Cinematographer/videographer
Animator
Script writer
Creative Advertise
MKU Programmes in Journalism and Mass Communication
Master of Arts in Journalism and Media Studies
Master of Arts in Film Studies
Bachelor of Arts in Film and Animation Studies
Bachelor of Arts in Mass Media and Communication (Options: Electronic Media, Print Media, Public Relations , Advertising)
Diploma in Journalism and Mass Communication
Diploma in Film Studies
Diploma in Animation and Motion Graphics
Diploma in public Relations and Diplomacy
Certificate in Public Relations and Diplomacy
Certificate in Journalism and Mass Communication
Download Journalism and Mass Communication flier below